April 21, 2021
6 crucial music collaboration examples to inspire you to buddy up and make a hit song
So you're sitting with your instrument of choice and ask yourself "how can I make a hit song?" How often do you consider music collaboration as an essential part of the process?
Additionally, collaborating with other musicians can build a strong network of people to:
Collaborate with you to help finish projects

Inspire you to try new things and learn new skills

Challenge you to go out of your comfort zone

Share your music with their fans

Become close friends and share like-minded sentiments

Rent gear or studio space
Artists are competing to earn their deserved piece of listener attention. Working together helps remind artists that they're in this together.
So, to help inspire you to get out there and meet new people, here are 6 key examples of music collaboration opportunities that occur on Vampr and in the wider music industry…
6 crucial music collaboration examples to inspire you
Singer songwriter looking for producer
Songwriter looking for singer
How to find band members
Looking for an artist manager
Producers and musicians
How to find a mixing engineer
1. Singer songwriter looking for producer
Singer Songwriters often write songs, lyrics and toplines. Often though, they aren't musicians as well.
Even instrument-playing singer songwriters often struggle with recording, arrangement and textures. This is when they need a producer.
Singer songwriters work with a producer to make songs sound "complete", polished and professional. It gets a song from sounding like a demo to something that fits in relevant playlists and albums.
Meanwhile, producers are often making instrumental (backing) tracks. They often don't write lyrics or toplines, so they're looking for singer songwriters to complete a song.
2. Songwriter looking for singer
Some singer songwriters write for themselves. Other songwriters love writing songs but have reasons not to sing them themselves.
Singers (even lyric writers) can benefit by considering work from other songwriters. Another writer's songs can still fit their story, sound and audience. After all, we're all humans having similar experiences!
A songwriter writing songs for artists was a very common setup in the earlier days of the music industry. Some of the most popular songs in history we associate with artists weren't actually written by them!
If you're going through a writer's block, somebody else's song might give you new inspiration.
The song you use by another songwriter might inspire an album you write yourself.
If you think singing somebody else's song isn't for you – give it a go! What singer doesn't love karaoke? 😏
3. How to find band members
The biggest music collaboration win is several musicians creating music again and again. – This is what a band is!
A song played together by more than one musician in real time is a wonderful thing.
If you're looking for band members, there are a few things to consider….
These are people you are likely to spend a lot of time with. Both on stage and touring (it could be very intimate), so be sure your personalities AND habits click.
Consider potential professional problems that could come up in the future. Band members should sort agreements (such as royalty splits and commercial decisions) up-front.
Bands looking for singers should get searching their local area on the Vampr app now!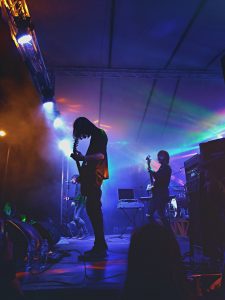 4. Looking for an artist manager
Finding an artist manager is making a decision to have somebody take care of a lot of your networking needs.
What does a manager do for an artist?
The job of a manager is to grow and nurture their network to find opportunities for their artists.
Managers can network with:
Executives and all manner of other professionals.
Managers keep bringing artists work that fits their artistic direction and commercial strategy.
5. Producers and musicians
Producers don't only work with singer songwriters and topliners. They often also need professional musicians to replace tracks in their production. Often, they use placeholders (such as MIDI tracks or amateur/sloppy playing) to get an idea down. They then use musicians to record a proper version.
Musicians and bands looking for a producer will collaborate with somebody they trust to record and arrange their work
.
Musicians also make instrumental song demos that need full productions. Finally, musicians often need remixes or edits for another use (such as for sync).
6. How to find a mixing engineer
Of course, producers often have a blend of creative and technical skills. But they may not always have the time, equipment, patience or sometimes skill, to mix their own tracks.
Artists and producers living in apartments often can't listen to music loud or for prolonged periods outside of headphones
.
If an artist is creating music on tour, they won't be able to mix their music to a high quality on the road.
Although AI and education are making it easier to master your own music, it's still not always the answer.
Mastering is an art reserved for people who understand sonic science, voltage, frequencies and magic
. This is especially true when making an album.
Finally, musicians and artists do often produce their own music. But, there are many reasons to consider mixing and mastering professionals:
Treated rooms made for transparent replication of sound

High quality

monitor

speakers

Extensive knowledge when it comes to music dynamics and frequency balance.
Conclusion
There you have it! 6 examples of crucial music collaborations always needed in the music industry.
Music collaboration is what can take your song from demo to finished product. Or, finished product to hit record! Always consider what might be missing from a song and who could help you take it to the next level.
Vampr Pro gives you unlimited connection opportunities to find collaborators locally or worldwide. Try Vampr Pro now! ✌