June 23, 2021
Vampr music consumer innovation: A breakdown of the leading music communities platform
Music consumer innovation for music communities
Finding like-minded people in the music industry. These could be in your local area, or with similar musical tastes globally.

Building a network for musicians who support each other.

An organic approach to music promotion on social media.

Learning how to level-up your music career.
Music consumer innovation is a tough nut to crack in the wider music tech industry. Therefore, being considered for an award must take something special!
Here are some of the ways Vampr is leading in music consumer innovation:
Fast and easy discovery + connection technologies
Vampr is a niche social platform that encourages networking in the music industry. Less dedicated social networks put an emphasis on connecting you with people you already know or following celebrities who are unlikely to acknowledge your presence. Vampr is about discovering, connecting and creating a music community.
It is Vampr's mission to make finding new people as easy as possible. Taking the next step to making new life-long relationships is also easy with Vampr. We do this with swipe technology as it presents the easiest way to:
Find musicians you need to help finish projects

Search for musicians in your local area

See people with the same music taste
Swiping is a primitive gesture.

Babies as young as 17 days old have

been observed

making swiping motions at objects they find interesting

.

In the field of app design, which often seeks to harness primitive impulses, it only makes sense that swiping would emerge as a key means of navigation

.
Built for music communities – no distractions
Vampr's most unique advantage is our close to 1 million users, all music industry participants. Importantly, All users on Vampr are looking to connect and collaborate with other musicians.
That means everybody using the app is thinking about only 1 thing – music.
People use social media for lots of reasons, but many musicians agree that it can waste a lot of time. This could
be spent
on more important things, like learning new skills or making more music, for instance.
Vampr is about connecting with people in the music industry. In short, it will only ever be an aid to your music career, never a distraction or hindrance.
Vamps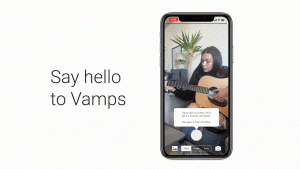 Vamps are non-permanent posts at the top of your feed. You can share unlimited videos, images and audio notes to your followers.
Vamps are a new Vampr technology that serve a useful purpose for creatives.
Showcase works in progress

Discuss musings and ideas

Do anything else that you think your music community needs to know!
Hybrid sync representation and music publishing model
Vampr is a one-stop-shop solution for all music industry needs.
This means we help artists and songwriters get attention from music supervisors for film and TV. Additionally, Vampr pitches music for adverts, and to get music in games and trailers.
We do this with a non-exclusive sync representation service. This converts into a publishing deal when we land you a sync
.
This is an industry-first sync deal that
was created
to be artist friendly. It's also an easy solution for music supervisors to find one-stop independent music.
Keep 100% music distribution royalties
Vampr also offers music distribution to
Vampr Pro
users. If you're a Vampr Pro member, you already have
free music distribution.
Here, you can manage all your releases within your Vampr account.
Many other music distributors charge fees for individual releases or take a percentage of your royalties. But, Vampr doesn't charge any fees other than the cost of a Vampr Pro subscription. Artists and record labels get unlimited releases to music streaming platforms. Then, keep 100% of their royalties.
Conclusion: why Vampr
Ultimately
, Vampr stands out in a field of music consumer innovation. This is because it's a platform that's created to be fair and supportive for people in the music industry. There's a place for everyone on Vampr, from fledgling musicians to music professionals to music fans looking to discover the next big thing.
Vampr focuses on the power of music communities and building strong networks. Therefore, it provides tools to help people in the music industry take their music career into their own hands.
Get the full experience with
Vampr Pro
, for as low as $2.99 a month!